Published on 2008-05-18 10:06:44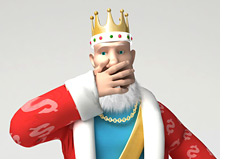 I came across an interesting article tonight while I was surfing through Google News.
Michael Binger and Roy Winston, a couple of professional poker players, have teamed up to launch "Oracle Poker Consulting".
Michael Binger is probably best known for his third place finish in the 2006 World Series of Poker main event. He has won a couple of events since then ($5k NLHE event at the Five Star World Poker Classic for $317k and $1500 NLHE event at the 2008 L.A. Poker Classic for $125k), and has total lifetime cashes of over five million dollars (most of which came from his WSOP main event final table appearance).
Roy Winston has total lifetime cashes of over two and a half million dollars. His biggest cash came when he took down the 2007 Borgata Poker Open for $1.57 million dollars.
Now, a few things in this article caught my eye.
The very first sentence of the release reads like this:
"If you have the desire to improve your
poker
game and you are sick of the half-baked instructional 'schools' that can be found on the Internet, then you are finally in luck."
You can only assume that they are referring to sites such as Cardrunners and PokerXFactor. Pretty poor choice of words - I can only hope that CasinoTimes made this statement, and not Oracle Poker Consulting.
The article then goes on to say that the two players will be unveiling their "innovative individual player service" during the 2008 WSOP. According to the release, "one lucky Main Event finalist" will find themselves "working intensely with Binger and Winston during the three month lag time before the final event is played in November".
This is the first time that I've heard of a professional player (or players) blatantly offering their services to someone who makes the WSOP main event final table. If you didn't already hear, there is going to be a months long gap in the main event in order to drum up some interest for the final table, which will be played out in November. Many people have expressed concern that people reaching the final table will be able to receive extensive coaching during the downtime.
The duo will be launching the "Oracle Learning Centers". One of the stated goals is to help players move from "online to live play". According to the release, both beginner and advanced players will be able to learn something at these "centers".
What do you think? If you made the final table of the WSOP main event, would you utilize the services of Binger and Winston? The press release doesn't mention anything about cost. They didn't send this release to us and we weren't paid to talk about it, I just thought that it was interesting for a number of different reasons..
Link to the release below..
Source:
Oracle Poker Consulting Launched
--
Filed Under:
World Series of Poker
|
Random Poker News