Published on 2008-05-08 08:01:19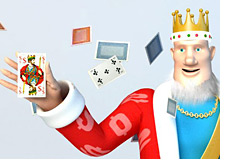 A few days ago, we wrote an article on our other poker site, Poker-King.com, entitled "Some Interesting Data from Partygaming's Annual Report". Partygaming recently released their 2007 Annual Report, and there were plenty of interesting pieces of information in the document.
It would be nice to see similar Annual Reports from Full Tilt Poker and Pokerstars to get an idea as to just how much they make per year, etc., but they are privately held companies and don't have the obligation to disclose any of their financial information. Partygaming, being a publicly traded company on the London Stock Exchange, is different. By wading through the 100+ page annual reports, you can glean some pretty interesting information in regards to player trends.
The first interesting piece of information: Texas Hold'em continues to gain in popularity compared to games such as Pot Limit Omaha and Seven Card Stud. Personally, I was of the opinion that Pot Limit Omaha was starting to gain in popularity a little bit - I was wrong.
In 2005, 89% of all gross poker revenues on Party Poker were generated through Texas Hold'em.
In 2006, this number rose to 90%.
In 2007, even though Pot Limit Omaha seemed to gain in popularity, 94% of all poker revenues were generated through Texas Hold'em (ring games, SNG's, tournaments).
Pokerstars and Full Tilt Poker could very well be different. Again, they don't give us any stats.
Some other interesting data from the annual reports (interesting to me anyways):
1. The average hand of poker on Party Poker took 38 seconds to complete in 2007, down from 39 seconds in 2006.
2. Only 26% of players who sign up for poker accounts on Party Poker are still active after 6 months; after 12 months, this number is 21%.
3. The average poker player on the site plays 7-8 times per month, and their average session length is 15 minutes.
4. Ring games accounted for 70% of gross poker revenues in 2007.
5. Partygaming indicated that in general, higher revenue-producing non-US players left Party Poker and migrated to sites that still allowed US players.
6. $9.6 million dollars in revenues were generated through "inactive fees and similar items" in 2007. Partygaming said that these revenues "were not material" in previous years. I wonder exactly how much Partygaming made in 2007 from "inactive fees"? Sounds like quite a bit.
If you want to read the entire 2007 Annual Report,
click here
(large PDF file). If you want to read our article on the report on Poker King,
click here
.
--
Filed Under:
Miscellaneous Poker Articles