Published on 2008-03-26 04:48:22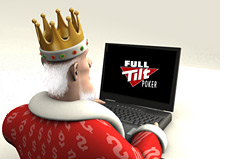 When was the last time that you saw a high stakes No Limit Hold'em cash game on Full Tilt Poker that involved more than 4-5 players at once?
You can log in at almost any time of the day and find a high stakes PLO game to rail. No Limit Hold'em high stakes cash games? They seem to be going the way of the dinosaur, in favor of Pot Limit Omaha.
That's not to say that NLHE games above $50/$100 don't take place, but they are increasingly rare when you compare it to Pot Limit Omaha. If Phil Ivey isn't playing someone in the $500/$1000 "Ivey Deathmatch" then there is a good chance that there isn't a high stakes NLHE cash game (above $50/$100) taking place on either Pokerstars or Full Tilt. Sure you'll have players such as "Urindanger" or "OMGClayAiken" sitting in a heads-up $200/$400 game, waiting for an opponent, but they hardly ever come. Most people aren't stupid enough to "take a shot" against these great players, and there just isn't enough of an edge for them to play each other. So, with no one willing to take these players on, the No Limit Hold'em high stakes cash games die out.
For people that play high stakes and want some action, the obvious choice becomes Pot Limit Omaha. There are regularly multiple tables of high stakes PLO running on Full Tilt Poker. Players who traditionally stuck to No Limit Hold'em (Urindanger, OMGClayAiken, etc) have now ventured over to the PLO games because these are usually the only high stakes games that are running. If you want action these days, you are going to have to learn PLO or a mixed game.
Why the attraction to Pot Limit Omaha? It's pretty easy to see. Pot Limit Omaha is a very swingy, high variance game that appeals to the gambler in people. In a few good hours, with the right cards, you can amass a stack of over $500k. This has been done multiple times in the past few months by the likes of "Brian Hastings" and "MrSmokey1". You might be able to pull this off in a short-handed No Limit Hold'em game but it's going to be quite a bit harder due to the lower amount of variance.
Some of the high stakes PLO players have only started studying and playing the game in the past year or so, which will lead other more-experienced players to believe that they have an edge in the game. The result is multiple tables of high stakes PLO with 4-6 people playing. Experienced PLO players such as David Benyamine surely believe that they have a big edge in the games due to the relative inexperience of many at the tables.
The bottom line is that many of these high stakes players are action junkies and Pot Limit Omaha allows them to loosen up quite a bit and play many more hands. Because of this reason, I just don't see the popularity of high stakes PLO waning anytime soon, and I think that more and more high stakes players will adopt it as their game of choice.
--
Filed Under:
Miscellaneous Poker Articles