Published on 2008-03-03 09:39:18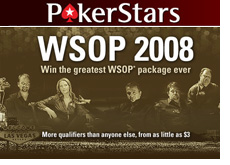 Sometime late last week, Pokerstars' arch-rival Full Tilt Poker kicked off their 2008 World Series of Poker promotion. At the time, I decided to fire off an email to Pokerstars, asking when they were planning on launching their qualifiers for the Main Event. I was told that "nothing was planned" as of yet.
Well, either that person didn't know what they were talking about, or Pokerstars rushed out their WSOP promotion to keep up with Full Tilt Poker. Anyways, Pokerstars has now officially launched their 2008 qualifiers, and they are promising more seats to the Main Event than any other site.
Pokerstars is offering many different ways of qualifying for the Main Event, including FPP satellites, cash qualifiers and Steps Sit and Go's.
Let's start with the FPP satellites. Pokerstars is going to have a weekly FPP tournament with a 4000 FPP point buy-in. There will be three guaranteed seats to the WSOP awarded in each of these weekly tournaments. They will also be hosting daily feeder tournaments with a buy-in of 40 FPP (1 entry to 4k FPP weekly tournament for each 100 players) and 400 FPP's (1 entry to the weekly tournament for every 10 players).
Next up are the cash qualifiers. There will be a wide array of different tournaments that will award seats to the WSOP main event.
There is a weekly main event qualifier on Sundays with a buy-in of $650. There is also going to be a "Weekly European Qualifier" on Saturdays with a buy-in of $650, a "Weekly Australian Qualifier" on Sundays with a buy-in of $650 and a "Weekly High Roller Qualifier" with a buy-in of $1050.
In addition to all of these tournaments on Sundays, Pokerstars will also be hosting a number of daily tournaments that will guarantee at least 1 seat to the Main Event. There will be a $33 rebuy and a $160 tournament daily. There will be a number of different satellite tournaments into these events, plus all of the Weekly Qualifier tournaments as well.
Lastly, Pokerstars is also offering Steps Sit and Go's into the main event as well. You can start at Step 1 for as little as $7.50 or 500 FPP. Then, you can work your way up through the steps, eventually making your way up to Step 6 where the first place prize is a $12,500 World Series of Poker main event package (includes $10k buyin and $2500 in expenses). You can buy in directly at any level. For a better rundown of how the steps work,
click here
.
With Bodog, Pokerstars and Full Tilt Poker all running their WSOP satellites, you have no excuse. Get cracking and earn your seat - the WSOP will be here before you know it.
Source:
Pokerstars WSOP 2008
--
Filed Under:
World Series of Poker
|
Poker Room News