Published on 2008-01-31 11:14:07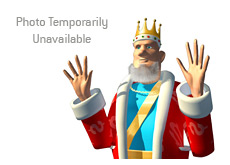 When we left you yesterday, we were wondering if the main event of the Borgata Winter Poker Open would finally result in Justin "Zeejustin" Bonomo's first major "live" tournament victory. He had come so agonizingly close in the past, and was entering the final three tables of play on Wednesday with an above-average chip stack.
It just wasn't meant to be for "Zeejustin" as he ended up taking eighth place in the event. Don't feel too bad for him though - he still walked away with over $130k.
Gavin Griffin eliminated Bonomo when the two players got all-in with Griffin holding pocket queens and Bonomo holding A J. Bonomo was drawing dead to a runner-runner straight after a flop of Q 7 3, and Griffin's set ended up holding up. (Borgata's blog has Bonomo holding AJ in this hand while Cardplayer reports him as holding AK, not sure which is accurate. AK seems more likely given the stacks at the time).
Bonomo had another big hand on Wednesday when he and Thomas Hare got all-in on a flop of A 5 6 with Hare holding a pair of nines and Bonomo holding 7 4 suited for the open-ended straight draw. The turn was a 10 and the river was a 4, providing Bonomo with no help. Kudos to Hare for making a great read on this hand.
Another well-known young poker player, Jared "Wacokidd" Hamby, was eliminated in 17th place. His fate was sealed after his pocket queens were no match for the pocket kings of his opponent, and he was bounced from the tournament soon after.
Six players remain in the hunt for the $1.4 million dollar first place prize. They are:
Lee Watkinson 397,000
Noah Schwartz 1,320,000
Ervin Prifti 289,000
Gavin Griffin 5,105,000
Thomas Hare 2,851,000
David Tran 5,276,000
Play begins on Thursday at 5 pm local time.
--
Filed Under:
Live Tournament Results