Published on 2008-01-10 02:01:00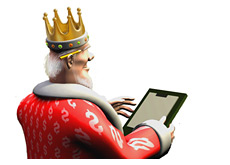 Back when the UIGEA was snuck into the SAFE Port Act, there was a lot of pessimism within the online poker industry, and rightfully so. Party Poker and others pulled out of the US marketplace, e-wallet companies stopped servicing US clients or just simply shut down, Neteller had the funds of their American clients frozen by the US government; in short, things just weren't looking good. What would happen to the online poker industry if Americans were completely shut out and could no longer fund or withdraw from their accounts? Back in early 2007, things were not looking good. Politicians were high-fiving each other, proud of the fact that they had "permanently crippled and left for dead" the online poker industry. Was the party really over?
Fast forward to 2008. Instead of the online poker industry dying, it has blossomed. The industry is setting traffic records left, right and center. Pokerstars has doubled in size since the UIGEA was passed into law, as have many other online poker sites. Live poker event attendance numbers have steadily continued to rise. The 2008 PCA had over 20% more entrants this year than last year. The main event of the WSOP might not have set an all-time record for attendance, however it was still jam-packed full of people, far outperforming even the most optimistic of projections after the UIGEA was passed into law. Smaller events at the WSOP (most notably the $1500 No Limit Hold'em tournaments) were so swamped with people that the World Series of Poker had to create additional tournaments this year just to meet demand. The 2007 Five Diamond Classic had a prize pool of $9.66 million dollars; the year before was $8.48 million dollars. New tournaments are springing up all over the world; in Asia, in Europe and in Russia.
The online poker industry has absorbed some tremendous punches since its inception but it still keeps on growing. First, Paypal decided to disallow all gambling transactions. Then most American credit card companies started disallowing gambling transactions. Then the UIGEA was passed and options like Neteller and Firepay were no longer available to US players. Every time something negative happens, the online poker industry adapts and keeps growing. No matter what politicians try, they just can't kill it. If they weren't able to kill it by now, they never will be able to.
Not only can Americans still play, but online poker is spreading to previously untapped markets such as Asia, Russia and Eastern Europe.
You can see direct evidence of the growth in some of the numbers of online poker rooms such as Pokerstars. Pokerstars recently set a record by hosting 23,000 real-money ring game players at the same time. This trumped the record of 20,000 that they set in late December, and is much higher than Partypoker at its peak, when Partypoker still allowed US players.
Ladbrokes Poker just recently set a new all-time high. Records were set for the highest industry-wide peak player total ever, and highest industry-wide average player total. The Ipoker network, Ongame Network and Everest Poker all recently broke peak player totals.
The doom and gloom of early 2007 has been replaced by the optimism of 2008. Online poker has endured a tremendous amount of punishment over the past year and is still thriving and growing, much to the dismay of some politicians. The bottom line is - adults should be able to wager online if they want to, and the government trying to impose its "morals" on us is transparent and will never work. The leaders of the online gambling industry are smart and resourceful, and will always find a way around any rules and regulations imposed by the government.
Will the government smarten up one day and finally go the way of regulation instead of prohibition? Maybe, maybe not. The online poker industry will continue to thrive regardless, and there isn't much anyone can do to stop it.
Data Source:
Pokerscout
--
Filed Under:
Poker Legislation
|
Miscellaneous Poker Articles