Published on 2008-01-05 12:58:39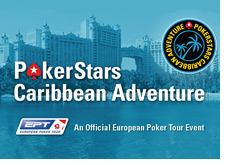 Some of the best poker talent in the world is converging on the Atlantis Resort & Casino in the Bahamas to play in the 2008 PCA, which begins on Saturday, January 5th. The event is sponsored by Pokerstars.net which means that some of their sponsored talent will be appearing and playing in the event, including Daniel Negreanu and Humberto Brenes.
Last year the winner of the event was Ryan Daut, who took home over $1.53 million dollars for finishing in first place. Second place went to Isaac Haxton, who took home $861k. Other players of note at the final table included Robert Mizrachi and Jonathan "Fieryjustice" Little who finished in 4th and 5th places respectively.
The event is always a great mix of "live" and "online" poker talent. Since Pokerstars sponsors the event, many of the entrants in the tournaments qualified through a satellite on their site. This always provides for an interesting dynamic at the tables, as many of the players at the event are very inexperienced in live events, yet very good overall poker players.
The event also attracts the players who are still too young to play live events in Las Vegas. The minimum age to play in the PCA is 18 years, whereas you need to be 21 years old to play in Vegas. For many players, this is their first shot at playing a major live event. What better way to start your "live" poker career than to play in an EPT event, in the Bahamas, with millions of dollars on the line!
Due to Pokerstars' surging numbers over the past year, I would expect an even larger prize pool this time around. I would expect more stories of debauchery and excessive gambling / drinking this time around as well.
Pokerstars made news about a week ago by announcing that their lifetime ban against Josh "JJProdigy" Field would extend to the PCA as well. It is still unknown as to whether Josh Field is the lone person that is banned from the event, or if the likes of Justin "Zeejustin" Bonomo and Kofi "redsoxsox" Farkye would be banned as well if they tried to sign up for the tournament.
I can guarantee plenty of things that will take place at this event. Excessive drinking. Excessive gambling. Excessive gambling induced by excessive drinking. Plenty of people playing poker on their laptops in the lobby. And there just might be some great poker played as well. I'm looking forward to this event. We'll be covering the PCA closely on this blog, so check back daily for end-of-day results.
--
Filed Under:
Live Tournament Results