Published on 2007-12-06 01:05:05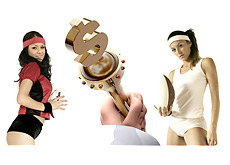 The King has added a new site to his network, and this site focuses on sports betting, and is aptly named
Sports Betting King
.
We have launched multiple poker sites and many different online casino sites. We felt that it was high time to launch the Sports Betting King, a site that will highlight upcoming sports events that are of interest to sports gamblers. Also, the King will give his opinions on different sporting events from time to time.
The site just launched yesterday, however we recommend that you check out the site daily as we strive to add at least one new article per day.
The site will focus on the NFL, MLB, NHL, NBA, Boxing and MMA Betting, with some occasional soccer coverage thrown in. Betting on MMA (and especially the UFC) has grown in leaps and bounds over the past few years, and we will be providing extended coverage on the UFC. We will cover all of the major boxing events, starting with the Hatton / Mayweather Jr. fight which is taking place this weekend. We'll be keeping a close eye on the major North American sports, with an emphasis on the NFL and Major League Baseball.
If you are a poker player then there is a good chance that you also like to wager on sports, so please drop by the Sports King web site from time to time.
Sports Betting King
--
Filed Under:
Miscellaneous Poker Articles