Published on 2007-11-01 23:49:55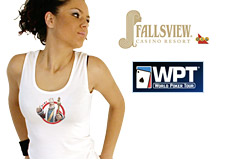 The final table is now set at the North American Poker Championship, with the field being narrowed down from 18 players to just 6 by the end of play on Thursday.
Cheryl Deleon went out on the TV bubble on Thursday, as she pushed her 10 5 offsuit into the pocket Jacks of Jeff "Actionjeff" Garza. A miracle didn't come for Deleon, and the final table was set.
The final table should be very interesting, as it contains a mix of well-known online players and "live" poker pros.
The final table will consist of:
Kofi Farkye
Jonathan "FieryJustice" Little
Jeff "Actionjeff" Garza
David Cloutier
Barry Greenstein
Scott "BigRiskky" Clements
The final table will commence at 4 pm EST on Friday. The players are all guaranteed at least $170,216 Canadian, with the first place finisher receiving $1.387 million dollars. This is a WPT event, so the final table will be televised.
--
Filed Under:
Live Tournament Results