Published on 2007-10-07 04:42:14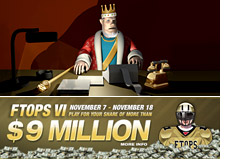 I understand why Full Tilt Poker holds so many FTOPS events per year. Money.
The problem is that, in my opinion, they are cheapening the event by holding it so many times in a calendar year.
I am sure that the serious online poker player loves it. I mean, if Full Tilt holds five FTOPS per year, they are going to have a lot more big events to play in. And that's the reason why Full Tilt does it, to collect that rake, and that's fine.
However there is a reason why the WCOOP is THE online poker event. There is a reason why almost every pro will fund their Pokerstars accounts just to play in the main event. There is a reason why players will tailor their schedules just so that they are around when the WCOOP is taking place.
By limiting the event to just once per year, Pokerstars has built up the prestige in the event, and they use it as a major selling point for their site (just look at their banners.) Sure, they may lose out in rake by not holding the WCOOP five times per year, but they easily make that back up by playing host to the biggest event online. That is a major selling point for their site, and there is a reason why they only hold the WCOOP once per year.
Full Tilt might want to follow Pokerstars and just limit the FTOPS to once per year. By doing this, they will be able to promote the event more, which will lead to higher guarantees, higher numbers and a bigger buzz for the event.
--
Filed Under:
Miscellaneous Poker Articles