Published on 2007-09-06 22:02:55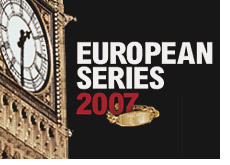 The WSOP Europe is going to be a fairly small event (just three major events), however the tournament is still attracting some of the strongest live and online poker pros from across the world.
The event kicked off today with the H.O.R.S.E. event. This will be followed by a PLO event which starts on Sunday, and then on Monday, the No Limit Hold'em main event will begin, and eventually finish Sunday the 16th. The prize pool should be fairly impressive given the number of players who are planning on playing, and also considering the fact that the buy-in to the event is over $20k US.
It should be another interesting mix of young and old talent. Many of the young poker pros who are unable to play in Vegas will be turning up for this event. Considering that many of the best young pros in the world are currently under the age of 21, this should make for a pretty exciting event. Many of the top US pros are making the trip over, where they will be joined by most of the best European pros out there.
This should be a very aggressive and very interesting main event to follow. We will be following the event closely on this site, so keep an eye out for updates.
--
Filed Under:
World Series of Poker