Published on 2007-08-31 01:31:50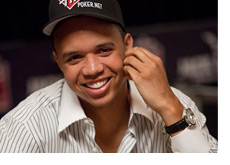 One of the most popular questions to be asked on poker message boards is, exactly how much money is Phil Ivey worth?
For us, there are two questions to be asked. What is his poker bankroll? And then what is his total combined net worth, including his poker bankroll, investments and real estate?
Now obviously, there are probably only three people who truly know the answers to these questions: Phil Ivey, his wife, and his accountant. However, it can be fun to speculate, so here we go.
Now in terms of his poker / gambling bankroll, we have a few facts that we can use:
1. Phil Ivey, according to many people in the game, is one of the most winningest players in the "Big Game."
2. Phil Ivey, as part of the Corporation, won a significant amount of money from Andy Beal.
3. Phil Ivey is a very successful tournament player.
4. Phil Ivey once signed up for a $10 million dollar SNG. Only one other player signed up.
5. He has enough money to "forget" that he had $750k in chips stashed at the Commerce casino.
Estimates on his liquid poker / gambling bankroll? Adding everything up, you would have to say at least $25 - $35 million.
Now, when you start talking about his total net worth, you need to include:
1. His stake in Full Tilt Poker
2. His real estate investments.
3. Any other investments.
Considering he was one of their first pros and considering the fact that he is probably their most marketed player, you would have to assume that Phil Ivey has a fairly sizable equity stake in Full Tilt Poker. I would guess he owns 5% of the company. What's Full Tilt Poker worth? Given the value of some of the publicly traded poker rooms, I would have to say that Full Tilt is worth somewhere $750 million - $900 million dollars on paper. So Ivey's stake in Full Tilt Poker, if it were ever sold, is likely worth $37.5 to $45 million dollars. Again, all speculation, but you have to assume he has a big piece of the company.
Real estate and other investments? I mean, really, who knows here. But you have to assume that Ivey and his wife are smart with their money. I wouldn't be surprised if Ivey owned multiple homes in Las Vegas and more around the country. I would guess that the total value of their investments would be $10 million dollars or so, but again, this is just pure speculation.
I would guess that Ivey has between $35 - $45 million in liquid assets and another $35 - $45 million in net worth due to his stake in Full Tilt Poker. Again though, this is just pure speculation. There is no doubt that Phil Ivey is incredibly rich though.
Photo: GreasieWheels
--
Filed Under:
Miscellaneous Poker Articles