Published on 2007-08-04 00:51:39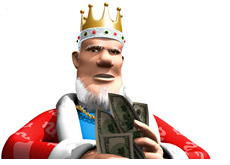 Let's assume a couple of things.
Let's assume that you are a billionaire and money is no object.
Let's assume that you are allowed to choose one player in the world to bankroll for poker tournaments, either online, live or a combo.
Let's disregard any personal wealth that your player may have, and assume that they will be hungry and playing at 100% for you.
Your only concern is having the highest return on your investment possible in real dollars. You want to make the most money possible.
The player that you bankroll will play tournaments 365 days a year, either live or online. He lives in Las Vegas, and if you want him to play in tournaments outside of Vegas, then you will need to cover his expenses.
If he/she cashes in a tournament, you will receive 100% of the entry fee back and 50% of the winnings after that.
The question is: who do you back?
Do you back Phil Hellmuth? Do you back Phil Ivey? Barry Greenstein? Daniel Negreanu?
Or maybe a younger player such as Sorel Mizzi or Jared Hamby that might have more endurance and be able to put in more hours for you?
Would you want your player to play predominantly live events? A combo of live events and big online events such as the Full Tilt Poker $1k? Or just strictly online tournaments so that they can multi-table?
Who would you choose to back? And what tournaments would you put them in?
--
Filed Under:
Miscellaneous Poker Articles