Published on 2007-07-25 23:54:53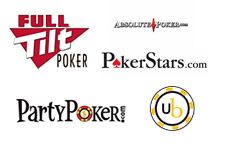 The online poker landscape changes by the day. Not too long ago, Party Poker was the king of online poker and everyone else was looking up at it. Ultimatebet was healthy and thriving, and Full Tilt Poker was simply a small, fringe poker room. A few years have passed, the UIGEA has been signed into law, and now the landscape has completely changed. Party Poker, along with a number of other poker rooms, no longer accepts US residents. A number of smaller rooms shut down, and there has been a number of consolidations in the space. Pokerstars is the clear number one poker room now, as they have continued to accept US players. Full Tilt Poker, with its star power, is quickly catching up, and probably has the most buzz of any poker room out there now. With the high barriers of entry and uncertain legal environment, new poker rooms have an almost impossible task of making a dent in the market. Each day, Pokerstars and Full Tilt Poker gain more market share.
So what about five years from now? What will the landscape be like then?
First off, I believe that there will be just a few major poker rooms, with many of the smaller rooms having closed up shop in the meantime. I would expect rooms such as Ultimatebet and Absolute Poker to not exist in five years. Pokerstars and Full Tilt Poker will continue to be the two biggest rooms around.
Second, I believe that the UIGEA will either be softened or repealed completely. Now, whether it is a carve-out for online poker or a complete repeal of the UIGEA, I believe that the legal landscape will be a lot more favorable towards poker rooms in a few years. Poker is mainstream, and I believe that somehow, someway, the UIGEA will be repealed or softened, to the benefit of online poker rooms.
Because of this, I also believe that Party Poker will re-enter the US poker market over the next five years. The USA is a cash cow in terms of online poker, and I strongly believe that if the US government blinks in terms of the UIGEA, then Party Poker will jump all over it and re-enter the US market.
I also believe that it will become much easier to fund online poker accounts over the next few years. Banks do not want to enforce the UIGEA rules and regulations, and I believe that online poker rooms and payment providers will find new ways of getting money online and offline. The industry faced a potentially crippling blow when Paypal and Credit Cards were no longer able to be used, for the most part, for money transfers to online poker rooms. They overcame that, and they will overcome this. There are a lot of smart people involved in this industry, and if there is a way, they will find it.
In terms of overall numbers, I believe that online poker will continue to plateau over the next few years. No big drops, no big gains. I can't see the catalyst for a big increase in players, but I don't foresee a big drop in players as well. If the UIGEA didn't kill off the US players as the US government had hoped, then I don't see what else would.
If you are a lover of online poker, I believe that you have seen the worst of the news, and that the sky will continue to get brighter as we move forward. Your game is under constant attack but is mighty resilient, so I wouldn't lose any sleep at night. Online poker is here to stay.
--
Filed Under:
Poker Legislation
|
Miscellaneous Poker Articles