Published on 2007-06-06 01:50:21
Actually, the coverage of the World Series of Poker by Pokernews.com so far has been outstanding. The site sunk a lot of resources into first securing the rights to be the sole provider of hands and chipcounts, but also hired more than 40 people to work on the coverage of the big event. Compared to the coverage that was provided by Cardplayer.com last year, the coverage this year is absolutely phenomenal. The hand histories are better and more detailed, the chip counts are more up to date, and the entire site is just laid out much better. Pokernews.com obviously put a lot of thought into covering this event, and it is certainly paying off so far.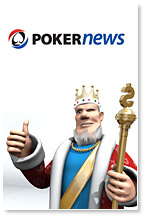 There is also controversy as well. Tony G, who is a major shareholder in Pokernews.com, has publicly stated that he believes that Cardplayer.com is stealing chip counts for their site, and posting them on their own site. Considering that Pokernews.com is supposed to be the sole provider of chip counts, it is a little fishy that Cardplayer.com would be able to post updated chip counts so quickly on their site.
Regardless of the controversy, do yourself a favor and head on over to Pokernews.com if you want to stay on top of the news and happenings of this year's World Series of Poker. Tony G and the crew are doing a great job so far, and you should reward them by heading on over there and making use of their great site and great coverage.
--
Filed Under:
World Series of Poker