Published on 2007-04-19 22:52:20
You could say that Adeeb Harb enjoys playing the $5k Bellagio event. Two years in a row, Adeeb Harb has taken down first place and the bracelet. Last year he bested players such as Barry Greenstein, and this year he managed to get past players such as "Devilfish" and "Tmay420" to capture the event for the second year in a row. Harb has now won almost $900k over two years in this event. Considering that his total lifetime tournament earnings are just over $1 million dollars, you could definitely say that Harb enjoys playing at this event.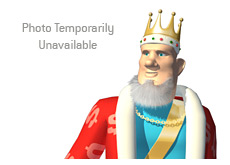 For the 2007 event, Harb took home just over $500k plus a seat to the $25k World Poker Tour championship event starting on Saturday. He bested Ted Lawson in heads-up play. The final hand saw Lawson and Harb getting all of their chips in the middle with Lawson holding Q 2 of hearts and Harb holding J 10 of diamonds. The flop brought a Jack, and the event was over, as the turn and river brought no help to Ted Lawson.
"Devilfish" went out in fourth place, as his pocket sixes couldn't hold up against his opponents overcards.
Considering the high quality of opponents in this tournament, it is remarkable that Harb would be able to win this tournament two years in a row. There is an incredible amount of good luck and strong play that must take place in order for a player to win a high profile event two years in a row. This event featured some of the best online and live poker pros in the world, and for Harb to win it two years in a row is an amazing feat.
Harb now sets his sites on the $25k WPT Championship which starts this Saturday. The stars will be out for that event, and it should be extremely entertaining.
--
Filed Under:
Live Tournament Results