Baazov Now Owns 5,605,839 Shares in the Company
Published on 2017-03-31 16:09:00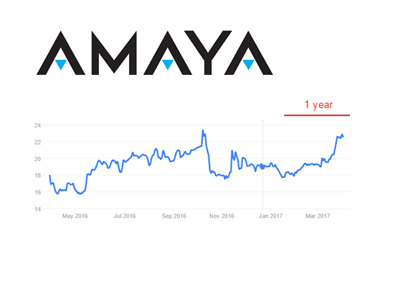 David Baazov seems to be well and truly done with Amaya Inc., as he continues to aggressively sell down his stake in the company.
In the fall of 2016, when Baazov was trying to orchestrate his purchase of Amaya Inc., the former CEO and founder of Amaya Inc. owned 24,951,547 shares of the company, which was good for a 17.2% stake. In addition, Baazov had options to purchase another 387,500 in common shares.
Baazov's attempt to take Amaya Inc. private eventually failed, as questions surrounding Baazov's financing sources reportedly pushed the asking price too high.
At that point, there were many questions as to what Baazov's next step would be. Would he maintain his stake and hope for a favourable outcome in his upcoming insider trading trial? Would he move on from the company?
It appears as though the latter scenario is coming to fruition, as Baazov has aggressively sold down his stake in the company. Earlier this week, Baazov sold an additional 13 million shares of his stake in Amaya Inc. - 2.7 million shares at $22 CDN and an additional 9.3 million shares at $22.40 CDN - thus bringing down his position to just 5,605,839 shares. This means that over the past couple of months, Baazov has sold nearly 20 million shares of the company. This has brought his stake down from 17.2% to 3.8%.
-
According to the SEC, Baazov will no longer need to report his equity holdings in Amaya Inc. going forward as he no longer owns 5% of the company.
Based on his selling as of late, don't be surprised if Baazov completely eliminates his position in the company over the coming months. This is likely good news for Amaya Inc. going forward, as Baazov's 17.2% stake in the company was an eyesore given his upcoming insider trading trial.
-
At the end of the day, Amaya's acquisition of Pokerstars made Baazov considerably wealthier, though it might get him into trouble with the authorities, depending on the results of November's trial.
Source:
SEC.gov
--
Filed Under:
Poker Room News