Can Amaya, Inc. Recover Following a Tumultuous Year?
Published on 2016-07-31 18:47:00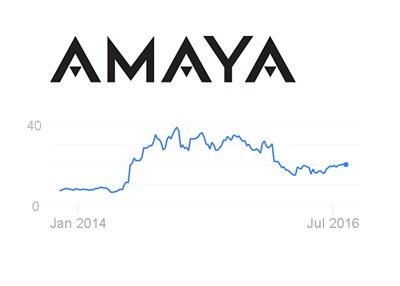 The last 12 months or so haven't been kind to Amaya, Inc., the parent company of Pokerstars and Full Tilt Poker.
The company's CEO, David Baazov, is currently on indefinite paid leave as he deals with allegations by Quebec's stock market regulator that he engaged in insider trading prior to Amaya's announcement of their takeover of Pokerstars.
The company is fighting a $870 million lawsuit that was filed by Kentucky in order to cover "alleged losses" after Pokerstars and Full Tilt Poker allegedly operated illegally in the state for a number of years.
The company continues to deal with the fallout of their changes to the Supernova and SuperNova Elite programs, as many top players have elected to steer clear of Pokerstars.
The company threw in the towel on Full Tilt Poker after the site, which was formerly the second largest online poker room in the world, dramatically underperformed expectations.
On top of all of that, there is the possibility of a takeover of the entire company, led by David Baazov himself or another entity altogether.
-
The show must go on, however, and Amaya, Inc. is set to report their Q2 earnings on August 11th.
According to the WSJ, the company is expected to post earnings of 46 cents per share for the second quarter. Five of the analysts who are following the company rate it a buy, with an average price target for the Canadian listed shares sitting at $28.90. With shares of Amaya, Inc. trading at $20.21 on the Toronto Stock Exchange, analysts are obviously expecting some good things ahead for the company.
Analysts and investors will be closely monitoring a number of different things during the company's Q2 earnings call, including the impact of the US dollar on their business, the success of newer products and any updates on any possible takeover. There are certainly many moving pieces right now when it comes to the Amaya, Inc. story, and investors are hoping for some clarification on August 11th.
-
Shares of the company have fluctuated a great deal over the past year, as the 52 week low is $13.71, while the 52 week high is $32.99.
Source:
WSJ.com
--
Filed Under:
Poker Room News