Busquet Batters Alvarado Over Three Rounds
Published on 2016-04-22 03:49:00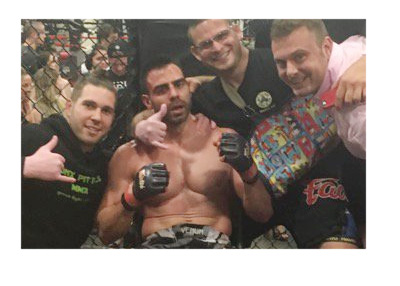 Earlier tonight, poker pros Olivier Busquet and JC Alvarado stepped into the cage for a mixed martial fight in Las Vegas.
At stake? Hundreds of thousands of dollars that was wagered between the two men, as well as $750,000+ more (allegedly) in side bets.
JC Alvarado has been training mixed martial arts "off and on" over the course of his life, while Busquet has just jumped in over the past six months. Busquet took his training very seriously and posted an impressive physical transformation.
-
Busquet walked into the cage with a weight advantage of roughly 25 pounds. This advantage paid off, as Busquet was able to hold Alvarado down for almost the entirety of the three round fight (the fight was scheduled for four rounds). After a particularly savage beatdown in the third round, Alvarado was unable to make it out of his corner for the fourth and the fight was called.
Alvarado had a few good moments with some well-placed leg kicks and a couple of submission attempts, though this night belonged to Busquet. The larger Busquet left his opponent a bloodied and mangled mess, and it was surprising that the fight wasn't stopped earlier. Busquet staggered Alvarado multiple times over the course of the fight and won via brutal ground-and-pound.
-
With Busquet battering Alvarado tonight and Lex "RaSZi" Veldhuis destroying Bertrand "ElkY" Grospellier a few years ago, maybe the poker world can get Busquet vs Veldhuis next?
Source:
Periscope of Busquet vs Alvarado Fight
--
Filed Under:
Random Poker News