Did Dan Bilzerian Cheat To Win The Bet?
Published on 2016-04-09 15:13:00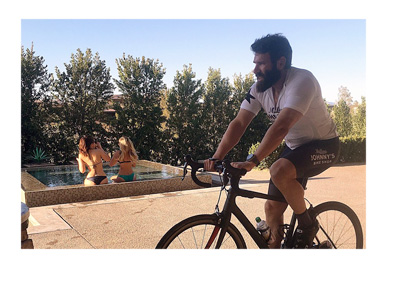 More than one week ago, high stakes poker player and Instagram celebrity Dan Bilzerian successfully completed a Las Vegas to Los Angeles bike ride in less than 48 hours to win a sizable wager against Bill Perkins.
Despite the ride having been completed more than a week ago, the bet still remains a story.
Bill Perkins, who loves a good prop bet, wagered that Bilzerian wouldn't be able to complete a Los Angeles to Las Vegas bike ride in less than 48 hours. Bilzerian accepted, ultimately enlisting the help of Lance Armstrong to successfully complete the ride well before the 48 hour deadline.
Perkins and Bilzerian both had $600,000 on the line in the wager. In addition, the poker community also heavily wagered on the ride, which led to more than $2 million being wagered.
-
There was a great deal of controversy surrounding the outcome of the wager, as many people think that Dan Bilzerian shot an angle to win the bet.
Pictures of the ride showed that Bilzerian was riding closely behind a "support vehicle" for a majority (190 miles) of the ride. This support vehicle, some people argued, was blocking the wind and allowing Bilzerian to "draft" the vehicle, making the ride significantly easier.
The support vehicle issue came to a head more than halfway into the ride, with Bilzerian agreeing to discontinue his drafting strategy with roughly 100 miles left. Bilzerian would go on to easily complete the rest of the trip with a great deal of time to spare.
Some people argued that Bilzerian was breaking the terms of the wager by "drafting" the support vehicle for the majority of the trip. In fact, some people are refusing to pay out their bets as they feel that Bilzerian cheated to win.
On Friday afternoon, Brian Rast (who is a close friend of Bilzerian) took to Facebook to clarify the situation.
According to Rast, both Perkins and Bilzerian were aware ahead of time that Bilzerian planned to "draft" his support vehicle. In fact, Rast said, Bilzerian and Lance Armstrong actually practiced drafting the vehicle during their time together.
This strategy, according to Rast, did not break the terms of the wager. Rast went on to stay that Perkins had paid out the bet in full and had conceded victory to Bilzerian.
Rast contends that the set of "rules" for the wager that was being circulated on the Internet was not the complete rules that the two sides agreed to. According to the finalized rules that were agreed to by both sides, Rast concluded, Bilzerian did not cheat and legitimately won the wager.
-
Despite the controversy over the bike wager, Bilzerian and Perkins are reportedly in talks for another outrageous prop bet. Stay tuned.
Source:
Brian Rast Facebook
--
Filed Under:
Random Poker News