Massive Event Set To Take Place on Sunday, March 8th, 2015
Published on 2015-02-16 22:06:00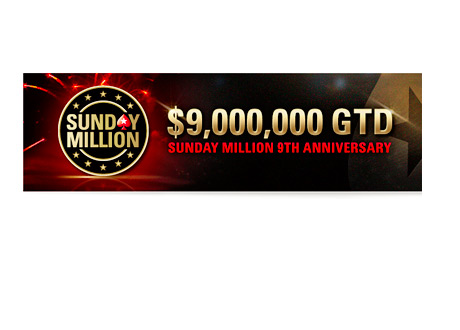 Pokerstars revealed earlier today that they will be celebrating the ninth anniversary of their "Sunday Million" tournament by hosting a special edition of the event.
According to Pokerstars, the March 8th, 2015 edition of the Sunday Million will have a guarantee of $9 million.
This means that, should you join the ranks of "DrUPSWING", "benislovas" and "slyfox151" as winners of Sunday Million anniversary events, you will walk away with a payday of at least $1 million.
The tournament will get underway at 14:30 ET on Sunday, March 8th, 2015 and will continue until sometime on Monday.
-
Pokerstars will be hosting two large "Deadline Satellite" events on the day of the Sunday Million Anniversary tournament. The first, which gets underway at 13:20 ET and has a buy-in of $11, will award at least 1,000 seats (guaranteed) to the big tournament. The second, which gets underway at 13:45 and has a buy-in of $33, will guarantee a minimum of 333 Sunday Million seats.
Earlier today, "feeder satellites" for the two "Deadline Satellite" tournaments got underway. These satellites run every hour and cost just $1 to enter. The winners of these $1 satellites will gain entry to the $11 Deadline Satellite event.
-
Source: Pokerstarsblog.com -
Celebrate the Sunday Million's Ninth Anniversary With $9 Million Guaranteed
--
Filed Under:
Poker Room News