Bellande Reunited With Car After Lengthy Saga
Published on 2014-07-11 02:43:00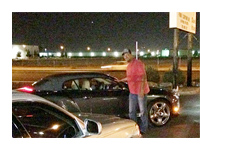 It has certainly been an eventful summer for the always interesting Jean-Robert Bellande.
About a week ago, the online poker world was buzzing with word that Bellande had landed himself in jail. Bellande confirmed the news after his 14 hour stay in jail via his Instagram account:
"Ew. Yup. that's me getting arrested last night. Bad idea transferring my JRBROKE plates onto my Bentley without DMV ok. #brokeinjail"
Link:
Instagram.com
After getting out of jail, Bellande summed up his summer via his Twitter account:
"I can take some hits but I'm feeling serious pain right now. Was hoping to turn my super brutal summer around w a 1drop result..#brokeinjail"
Bellande's summer started off well but quickly went downhill thanks to an unsuccessful month at the World Series of Poker that included zero cashes and relatively quick bustouts from the BIG ONE For ONE DROP and main event. The situation went from bad to worse when Bellande found himself at the wrong end of the law.
-
A few days ago, things turned around ever so slightly for the down-on-his-luck Bellande when he went to retrieve his prized Bentley from the towyard.
In true Bellande fashion, he took a limousine to the towyard and posted this on his Twitter account once he was reunited with his ride:
"Yes! Reunited with my ride. I missed you.I missed you. I missed you. #brokebentleyimpounded"
-
There is rarely a dull moment in the Jean-Robert Bellande universe.
--
Filed Under:
Random Poker News