Venetian Elects To Exclude Pokernews From Event
Published on 2014-06-08 01:10:00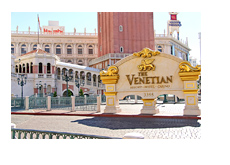 Earlier in the week, Pokernews.com revealed that they had been told that their live reporting services would not be needed for a Mid-States Poker Tour event that was being held at the Venetian.
Each MSPT event can request the services of Pokernews to provide live reporting. Given Pokernews' reach in the online poker world, having the site present to cover the event would seem to be a no-brainer.
The Venetian, however, informed Pokernews that their services would not be required. At the time, Pokernews wasn't given a reason as to why they were excluded from the event.
Earlier today, in an article titled "Venetian Confirms Adelson's Anti-Online Gambling Stance Caused Pokernews Ban", Pokernews revealed that they had received a statement from the Venetian on the matter. In the statement, the Venetian said that their "Chairman's clear position on the matter of online gaming" resulted in them making a decision to "not allow an online blog during the Mid-States Poker Tour event".
-
Sheldon Adelson is currently investing millions and millions of his own money into an anti-online gambling campaign in the United States. This has resulted in the establishment of the "Coalition to Stop Internet Gambling" which has published numerous op-ed pieces across the country and produced numerous anti-online gambling videos.
Adelson's desire is to completely eradicate online gambling in the United States, as he believes that it is a cancer that will destroy lives, amongst other things.
-
Source: Pokernews.com -
Venetian Confirms Adelson's Anti-Online Gambling Stance Caused Pokernews Ban
--
Filed Under:
Random Poker News