Woman Charged With Theft By Deception
Published on 2014-05-05 17:44:00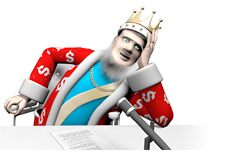 According to the New Jersey State Police, Diana Zolla of Jackson Township, New Jersey, has been arrested and charged with Theft By Deception after trying to claim identity theft following an online gaming loss of almost $10k.
As far as I know, this is one of the first charges that directly involves legalized and regulated online gambling markets in the United States.
According to the New Jersey State Police, Zolla racked up $9,565 in "online gambling debt" and then decided that she wasn't going to pay.
Her alleged "plan" to get out of the debt - claim that somebody had stolen her identity and used her maiden name to create an online gaming account.
After Zolla made this claim, detectives from the New Jersey State Police Casino Gaming Bureau and the Financial Crimes Investigations Unit used banking, online gaming and ISP records to allegedly prove that Zolla had, in fact, lost the $9,565 on her own.
Authorities likely went after Zolla particularly hard in order to dissuade others from trying the same thing in the future.
--
Zolla was released pending an appearance at the Atlantic County Superior Court.
Source: Blog.Northjersey.com -
Jackson, NJ Woman Cries Identity Theft After Racking Up $10k in Online Gambling Losses, State Police Claim
--
Filed Under:
Random Poker News