Tom Dwan Suffers His Largest Ever Loss
Published on 2013-09-24 20:08:00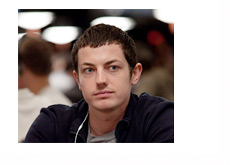 Tom Dwan has had some pretty epic swings over the course of his career as a poker player.
The Las Vegas cash games. The epic battles against the likes of Viktor "Isildur1" Blom on Full Tilt Poker. The ultra high stakes cash games in Macau.
According to Dwan, all of the losses that he has suffered up until this point pale in comparison to the loss that he suffered yesterday.
From Dwan's Twitter account:
"In taiwan for the 1st time ever... Not leaving the airport tho. Maybe next trip. Had my biggest loss ever yesterday"
The cash games of Macau have been Dwan's second home since "Black Friday". Dwan, who has consistently played in the world's biggest poker games over the past 4-5 years, was drawn to Macau following the shutdown of Full Tilt Poker after "Black Friday". Chinese billionaire businessmen frequent the games in Macau, which make them extremely enticing to the likes of Tom Dwan and Phil Ivey.
Having said that, even the best players in the world have days when the cards don't hit them, and when you are sitting in a game against billionaire businessmen, the losses can add up fast.
--
Filed Under:
Random Poker News