Andrew Robl Set To Fight Alvarado in November
Published on 2013-07-07 17:34:00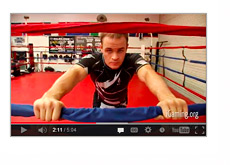 There is another mixed martial arts fight on the horizon involving two poker players, as Andrew Robl is set to square off against JC Alvarado in November.
Back in 2011, Andrew "good2cu" Robl issued an open challenge after a proposed MMA fight with Sorel Mizzi fell apart. Here is what Robl said at the time:
"I was planning on doing a $50,000 cage fight with Sorel Mizzi come WSOP time - but Sorel backed out of the bet. Heís had enough problems recently without having to worry about my fists breaking his face. Sorel has always been a great guy in my experience - and I certainly hope the rumors about him arenít true. If they are he made a huge mistake - and I only hope he makes amens and learns from the experience. If any beginning fighter wants to make a wager on a fight - let me know!"
Roughly two years later, Robl has finally found a willing participant in the form of J.C. Alvarado.
According to the Youtube clip posted below, Robl will be putting up $34,000 to Alvarado's $20,000. Robl states that he will be training nothing but stand-up in the months leading up to the November fight, as he is of the opinion that Alvarado will not want to grapple due to Robl's superior jiujitsu skills (all of this is according to Robl, of course).
--
This isn't the first time that two poker players have gotten into the ring with each other - Bertrand "ElkY" Grospellier and Lex "RaSZi" Veldhuis fought in Marbella, Spain in the fall of 2011:
--
Filed Under:
Random Poker News