LeggoPoker to Serve as Foundation for "Ivey League"
Published on 2013-02-06 19:00:00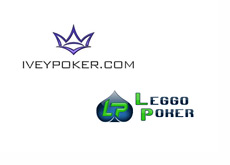 According to a press release that was circulated earlier today, IveyPoker has acquired LeggoPoker.
LeggoPoker, which is a "community-based website focused on teaching poker strategy through instructional videos from professional experts", will "serve as the foundation for a new IveyPoker offering called Ivey League."
Ivey League is described as "a subscription-based poker teaching site featuring training videos and content from Team Ivey."
IveyPoker.com already has dozens of pros signed to its "Team Ivey" stable, including Phil Ivey, Patrik Antonius, Cole South and Daniel Shak.
IveyPoker.com describes itself as offering a "suite of innovative poker products and services designed to both entertain and educate players of all levels worldwide."
The first IveyPoker.com offering will be the IveyPoker app, which is a "free-to-play social and mobile poker game that offers a unique poker experience." The IveyPoker app will be available through Facebook, Google Play, iOS and Android.
--
Source: IveyPoker.com -
IveyPoker Acquires LeggoPoker to Start Ivey League
--
Filed Under:
Random Poker News