Phil Galfond Sells His Apartment For $3.3 Million
Published on 2012-10-05 15:58:00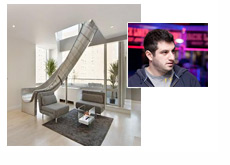 Ever since "Black Friday" took place last year, Phil "OMGClayAiken"/"MrSweets28" Galfond has been splitting his time between Las Vegas and Vancouver. In order to continue playing online poker, Galfond had to set up residence in Vancouver, which meant that his famous New York apartment (actually, apartments) wasn't get much use.
Earlier this year, Galfond listed his apartment for $3,990,000. Back in 2008, Galfond bought two identical 2-bedroom units in New York's East Village for a combined $3.2 million. Galfond connected the two apartments with a slide - combining the two apartments with a slide and staircase (for those who didn't want to slide) reportedly cost Galfond $300,000.
According to the New York Post, Galfond's apartment has finally been sold for $3.3 million.
The new owner, who is reported to be Daniel Gieschen of Canada, is going to host one major party at the residence before removing the famous slide. Gieschen is apparently planning on donating the slide to a children's museum or charity.
So, that's it - the infamous Phil Galfond apartment slide will soon be no more.
Source: New York Post -
Buyer of $3M penthouse apartments
--
Filed Under:
Random Poker News