Land-Based Casinos Were Also Interested In Full Tilt Poker
Published on 2012-08-02 19:22:00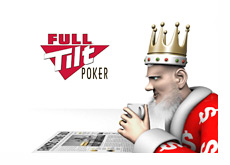 Earlier this week, Pokerstars and the US Department of Justice announced that they had reached a settlement nearly 16 months after "Black Friday" took place.
In addition to settling their outstanding issues with the US government, Pokerstars will also receive all of Full Tilt Poker's assets and will run FTP as a separate entity. As part of the deal, Pokerstars will make available all of the outstanding ROW player balances, while the US Department of Justice will handle the repayment process for US players. Part of the $731 million that Pokerstars is coughing up as part of the settlement will go towards paying back US players (we still don't know exactly how this process will work).
Anyways, between the time that "Black Friday" took place and this week, multiple companies considered making a bid for Full Tilt Poker. Groupe Bernard Tapie thought that they had a deal in place to purchase FTP, but the US Department of Justice elected to negotiate with Pokerstars instead (much to the benefit of the poker world).
In addition, there were various "white knights", hedge funds and other assorted investors who reportedly took a good, hard look at buying Full Tilt Poker, but it wasn't meant to be. There were also rumors that both Pokerstars and Bwin.Party attempted to purchase Full Tilt Poker in 2011, but that their bids were turned down by FTP management.
According to Reuters, the list of potential bidders for Full Tilt Poker might have been longer than what we originally thought.
The publication claims that Bwin.Party, Zynga and several land-based casinos considered making bids for Full Tilt.
Zynga purchasing Full Tilt Poker? That would have been.. interesting.
Source: Reuters.com -
Online Poker Companies Settle With U.S., Two To Combine
--
Filed Under:
Random Poker News