2012 SCOOP To Feature a Total of 40 Events
Published on 2012-05-04 23:30:00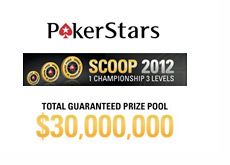 Just a friendly reminder that the 2012 SCOOP (Spring Championship of Online Poker) gets underway on Pokerstars this weekend.
This year's SCOOP will feature a total of 40 events and 120 tournaments. Each event will be comprised of a Low, Medium and High buy-in event - for instance, the Main Event will have a $109 buy-in tournament, a $1,050 buy-in tournament and a $10,300 buy-in tournament.
Pokerstars is guaranteeing a total of $30,000,000 this year, but you can safely assume that the final cumulative prize pool for the series will be far above that.
The first event (NL Hold'em, 6-Max, 2-Day) will kick off at 11:00 ET on Sunday morning. The final event (NLHE Main Event) will get underway at 14:30 ET on Sunday, May 20th.
Good luck to anybody that is planning on playing in this year's SCOOP. The full schedule can be found by clicking the link below:
Source: Pokerstars.com -
SCOOP 2012
--
Filed Under:
Poker Room News