Poker Pro Terrence Chan Wins Professional MMA Debut
Published on 2012-03-30 15:36:00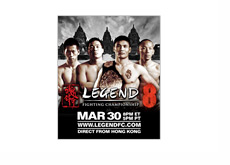 Poker professional Terrence Chan won his professional MMA debut earlier today, beating Alex Lee via submission on the undercard of Legend Fighting Championship 8.
Chan revealed a few days ago that he was offered the fight on short notice (two weeks) by the co-founder and matchmaker of Legend Fighting Championships. Up until this point, Chan has only fought in amateur bouts, but he still took the fight against Alex Lee without hesitation.
According to Chan, his opponent was "a veteran of over 20 ring fights in Muay Thai, boxing and karate" and also significantly larger than Chan.
Chan come to the ring rocking his Roberto Luongo jersey and was a ball of nervous energy before the fight started.
I have included a video of Chan's fight below - his fight starts at around the 11:40 mark of the video.
Source:
Terrence Chan Poker
--
Filed Under:
Random Poker News