Luciaetta Ivey Claims "Conspiracy"
Published on 2011-12-22 01:34:00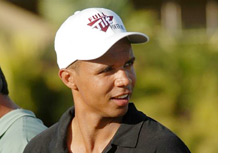 Luciaetta Ivey filed a lawsuit earlier this week against her ex-husband Phil Ivey, Ivey's lawyer David Chesnoff and her former lawyer John Spilotro, alleging that the three of them conspired against her to rob her of her equal share of the couple's community property.
Phil and Luciaetta Ivey divorced in late 2009. The divorce was sealed, meaning that the details of the divorce wouldn't be shared to the public.
It seemed to be a neat and clean divorce at the time, but it has subsequently turned into anything but.
The trouble started when Luciaetta Ivey was made aware that Phil and his lawyers had contributed to the campaign of Clark County Family Court Judge Will Gonzalez in the months following the couple's 2009 divorce. Luciaetta moved to have Gonzalez disqualifed from her case. This request was initially denied by Chief Clark Country District Court Judge Jennifer Togliatti. Luciaetta then took her petition to the Nevada Supreme Court, who decided that Luciaetta had raised issues of "arguable merit" and that Phil Ivey had 30 days to respond.
Phil responded a short time later, claiming that Luciaetta had received a number of things, including a purse collection worth over $1.25 million and jewelry worth $1 million, as part of the couple's settlement. Luciaetta was also entitled to alimony of $180,000 per month, contingent upon Phil continuing to receive his distribution payments from Full Tilt Poker.
--
The battle in the courts between Phil and Luciaetta continued on Tuesday, with Luciaetta filing her lawsuit against Phil, David Chesnoff and John Spilotro.
According to Luciaetta, Spilotro "failed to safeguard the financial interests of his client", and Spilotro, Ivey and Chesnoff "engaged in a combination and conspiracy" to deprive her of her "equal share of the couple's community property."
Phil Ivey and his lawyer maintain that Luciaetta simply blew through her money and is now looking to re-open the divorce case. Luciaetta claims that three men, Ivey, Chesnoff and Spilotro, conspired against her and that she was actually entitled to more money than what she received in the settlement.
Phil Ivey's very bad year continues.
Source:
Pokernews.com
--
Filed Under:
Random Poker News