Can Pokerstars Do It Again?
Published on 2011-12-13 01:04:00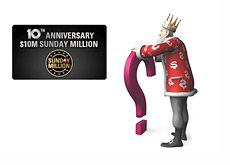 In case you didn't know, the 10th Anniversary Sunday Million on Pokerstars is taking place this Sunday (14:30 ET start time).
This is going to be a big, big tournament, as Pokerstars has guaranteed a prize pool of $10 million, with $2 million being guaranteed to the winner.
The question now is - will 50,000 players end up turning out for the Sunday Million this weekend, or will there end up being a massive overlay?
Pokerstars sold out their $1 World Record tournament last weekend, as 200,000 players from across the globe ended up entering for their chance to win $50,000. That was certainly an impressive turnout, but getting a minimum of 50,000 players to register for a $215 tournament will be a considerably tougher task.
If 50,000 players do end up turning out for this tournament, Pokerstars will end up making $750,000 in rake (50,000 players x $15). Not a bad haul for one tournament..
As of this second, 4,261 people have signed up to play..
--
Filed Under:
Poker Room News