Pros Place Bets Ahead of Kickboxing Match
Published on 2011-11-21 16:54:00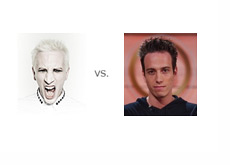 The kickboxing match between Bertrand "ElkY" Grospellier and Lex "RaSZi" Veldhuis is set to take place tomorrow (November 22nd).
The start time will be 4 pm CET, with the fight taking place "in the Arena at Cortijo de Cortes in Estepona right outside" Marbella, Spain.
As you can imagine, "ElkY" and "RaSZi" have some pretty serious money riding on the outcome of the fight. "ElkY" and "RaSZi" have a sizable bet with each other, and both players have bets with other people as well.
"ElkY" and "RaSZi" set even odds for the fight. "RaSZi" has been boxing and kickboxing off and on for the past number of years, while "ElkY" has gotten seriously into kickboxing over the past year or so, even going so far as to hire Lincon Rodrigues as his coach.
--
Here is some of what the Twitterverse is saying about the "ElkY" / "RaSZi" fight:
RealKidPoker (Daniel Negreanu) - The @elkypoker @RaSZi fight happens tmr. I want to bet more on it so if anyone likes Elky let me know. I'll cover another 50k ish
subiime (Joseph Cheong) - @RealKidPoker book 1k fun sweat on elky plz
ReynoldsXO (William Reynolds) - @RealKidPoker I'll take @elkypoker for $1k.. He kills cougars w his bare hands
--
Filed Under:
Random Poker News