French Magazine LivePoker Conducting Interviews of Full Tilt Poker Players
Published on 2011-10-27 01:41:00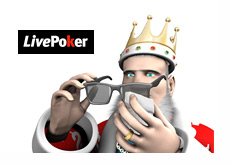 According to multiple reports, French magazine LivePoker has been calling Euro-based Full Tilt Poker customers over the past few days and conducting short 10 minute interviews.
Some of the questions that have apparently been asked: Would you play on Full Tilt Poker again? How much money do you have stuck on Full Tilt Poker? Under what conditions would you play on Full Tilt Poker again? Which features did you like most about Full Tilt Poker?
The players who were called were also asked which of these three repayment options would be the most palatable:
1. Immediate cashout but with a penalty applied
2. Cash out in instalments (6-12 months)
3. Partial balance converted to shares in FTP, which could be sold back to the company at a later time
According to Poker-Red.com
, LivePoker has ties to Groupe Bernard Tapie. LivePoker's director is one of the founders of FullFun, which co-founded the ISPT along with Groupe Bernard Tapie.
Players from Holland, Germany and Spain have reportedly been receiving calls from LivePoker over the past couple of days.
Some people have speculated that these calls mean that Groupe Bernard Tapie is now in the very advanced stages of closing on a deal. In reality, Groupe Bernard Tapie is likely just conducting some more due diligence - after all, closing on a deal wouldn't be very smart if most players were staunchly against ever returning to the site. Groupe Bernard Tapie has to find out how many players would be willing to play on the site again, and under what conditions.
--
Filed Under:
Poker Room News