Rafe Furst Berated, Supported on Twitter
Published on 2011-09-23 17:34:00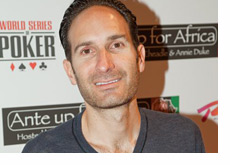 Earlier this week, the US Department of Justice amended their "Black Friday" civil complaint to add fresh new allegations against Full Tilt Poker and some of its owners.
One of the names that was added to the complaint was Rafe Furst. The DoJ is alleging that Furst made over $11 million between April 2007 and April 2011 from Full Tilt Poker, and it wants that money. According to the complaint:
"..that a money judgment be entered against Rafael Furst in an amount not less than $11,706,323.96.."
Furst responded to the allegations by penning
an open letter
. In the letter, Furst claimed that "I've got nothing to hide", and that those that support him should "not let the naysayers and haters be the only voices out there expressing their opinion of me."
--
I decided to see what people were saying about Furst on Twitter.. here are some of the comments, both angry and supportive:
PokercastAdam - "@RafeFurst Like Tom Dwan has done, will you pledge to give back all or some of what you made to cover players deposits?"
cdanek - "From every dealing I've had with @RafeFurst I find it impossible to believe that he's due the wrath of the poker universe."
dantes11 - "lets all feel sympathy for @RafeFurst he got paid millions by a company that stole from its customers. Hold on while I go get a tissue."
grotenstein - "I've known @RafeFurst for nearly 10 years, and the alleged Full Tilt madness doesn't jibe."
pokerkat - "The people trusted FTP and the poker stars that represented them. Owners need to pay @rafefurst"
kasekaiserina - "Sending love to @rafefurst, a man who has inspired/supported both@hristoz and I to make the world a better place."
thinkingpoker - "Presumption of innocence @RafeFurst? You've had people's $ for months with virtually no communication. Don't want gossip? Tells us the truth"
Ali_Nejad - "I'm proud to call Rafe a friend, and believe 100% in HIS innocence."
haralabob - "I have known @rafefurst for ~8 years he is one of the most honest, trustworthy and moral people I know. Don't rush to judgement #ftp"
CoPokerBrat - "@RafeFurst Where is the extra 360 million or the huge amount of player funds missing? Thats a pretty simple question to answer"
JohnMarcus9 - "@RafeFurst Congratulations Rafe.You stole 11.7 million dollars and you did it without a gun or a mask !"
SportsJoe - "Open letter doesn't hide your guilt. Fact is you guys screwed us! Pay up leech!!"
HugoStiglitz3 - "@RafeFurst I WANT MY 30K U SCUMBAG PIECE OF FUCKING SHIT , CANT WAIT TO RUN INTO U"
kalooki - "@rafefurst Even if you didn't know what's going on, begging for sympathy while NOT sympathising with players is just classless."
Photo: GreasieWheels.com
--
Filed Under:
Online Poker Scandals