Steve Zolotow Trying To Recover $900k Worth of Diamonds
Published on 2011-07-16 02:03:00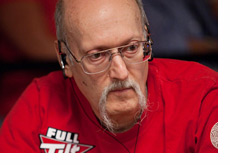 Steve Zolotow wants his diamonds back.
According to the Toronto Sun (link below), Full Tilt Poker Pro Steve Zolotow had nearly $900,000 worth of uncut diamonds seized by Canadian Customs officers back in April of 2000.
Zolotow was apparently on his way back to New York after a day-long trip to Toronto when his diamonds were seized. Zolotow had neglected to declare his precious cargo, and the stones were seized as he tried to clear customs at Pearson airport in Toronto.
The 20 uncut diamonds were turned over to the RCMP and Zolotow was charged with failing to declare his valuable stash. Zolotow apparently neglected to appeal the seizure within 30 days, which meant that Canadian authorities were free to unload the precious stones. The diamonds were apparently sold for $250,000.
According to the Toronto Sun, Zolotow has spent the last 11+ years trying to either get his diamonds back or receive some sort of compensation. He apparently failed in his most recent attempt, as the Federal Court of Canada recently ruled against a motion that would have seen the diamonds returned to Zolotow.
No word on what exactly Zolotow was thinking when he tried to cross back into the United States with nearly a million dollars worth of uncut diamonds on him.
Source: Toronto Sun -
Poker Player Wants His Diamonds Back
Photo: GreasyWheels.com
--
Filed Under:
Random Poker News