Phil Ivey Will Reportedly Pull Lawsuit
Published on 2011-06-30 22:42:00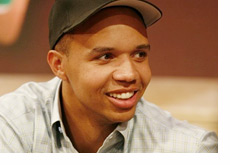 According to the LA Times, a deal has been struck for a group of European investors to purchase Full Tilt Poker. This is no word as of yet as to who the European investors are and what the terms of the deal will be.
According to the article, Full Tilt's attorneys have stated that the deal will allow Full Tilt Poker to pay back players. The unnamed European investors will be receiving a majority stake in the company.
As a result of the deal, Phil Ivey will reportedly be withdrawing his lawsuit against the company. Ivey's attorney, David Chesnoff, has stated that Ivey is withdrawing his lawsuit "as he believes that Full Tilt is taking steps to see that the players are paid".
I would assume that Ivey will also be ending his World Series of Poker sit-out as well.
Source: LATimes.com -
Full Tilt Poker to be sold to European investors
Photo: Greasywheels.com
--
Filed Under:
Poker Room News