Erick Lindgren and Erica Schoenberg Get Hitched in Santa Barbara
Published on 2011-05-29 18:30:00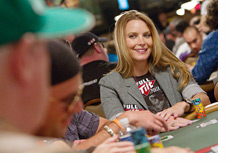 Erick Lindgren and Erica Schoenberg tied the knot in Santa Barbara earlier today.
Many of poker's biggest names, including Daniel Negreanu and Phil Hellmuth, attended the event.
Many pros and other poker personalities took to Twitter to offer their congratulations:
Daniel Alaei:
"dalaei: Off to Santa Barbara to see two of my favorite people get married.@EdogPoker and @thehitwoman"
Greg Mueller:
"GregFBT: @SavagePoker @thehitwoman @EdogPoker One of the best guys and one of the prettiest girls in poker!!! U both deserve happyness! Congrats!!!"
Kim Lansing:
"KimberlyLansing: Wishing u many years of happiness & love! RT "@BJNemeth: Best wishes to Erica (@thehitwoman) & Erick (@EdogPoker) on their wedding day!"
Kara Scott:
"KaraOTR: Big congratulations to @EdogPoker & @thehitwoman getting married today in beautiful Santa Barbara."
Cole South:
"colesouth: Congrats @EDogPoker !"
Karina Jett:
"KarinaJett: Most eligible bachelor and bachelorette getting married to eachother today. Congrats @EdogPoker and @thehitwoman. So happy for you both."
--
After the festivities wrap up later today, everybody will be hurrying back to Las Vegas to prepare for the start of the World Series of Poker (which gets underway on Tuesday).
Photo: GreasieWheels.com
--
Filed Under:
Random Poker News