"Lrslzk" Takes Home $505k After 5-Way Chop
Published on 2011-05-23 22:11:00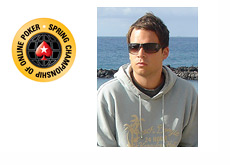 The 2011 SCOOP (Spring Championship of Online Poker) is now in the books after Sami "LrsLzk" Kelopuro took down the High buy-in ($10k) main event for $504,691.09.
In addition to the $505k, Kelopuro will also receive a SCOOP watch for his victory.
The original first place prize for the $10k SCOOP main event was $735,300, but a chop was agreed to during five-handed play. Here is how the payouts ended up for the top five finishers:
"Lrslzk" - $505k
"Tagult" - $540k
"StigR" - $390k
"altiFC" - $370k
"danskemann" - $430k
The final hand of the event occurred after "Lrslzk" and "Tagult" decided to get it into the middle pre-flop. "LrsLzk", who had a 2.1 million to 1.7 million chip advantage, turned over A-Q offsuit, while "Tagult" turned over pocket Kings.
The board ran out 2d-Js-Ah-Jh-Th, giving "LrsLzk" a pair of Aces and the victory.
--
Thanks to the absence of US players due to "Black Friday", eight of the nine final table participants were European.
In total, 380 players turned out for the $10k SCOOP main event, which ended up creating a total prize pool of $3.8 million.
--
The name "Lrslzk" will probably ring a bell in your head if you have been following online poker for any length of time.
As "LarsLuzak", Kelopuro played in some of the very biggest cash games on Full Tilt Poker for a number of years.
In 2009, things went south for "LarsLuzak" on FTP, as the account lost a total of $4.1 million on the year. "LarsLuzak" has rarely been spotted in the high stakes cash games ever since.
--
It will be interesting to see if Kelopuro ventures back into the big online cash games after his victory in the SCOOP main event.
--
Filed Under:
Online Poker Tournament Results