Pokerstars Will Continue to Grow Thanks to Swift Payout of US Players
Published on 2011-05-08 03:01:00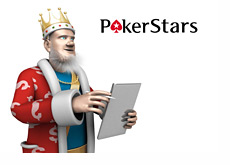 In the days after "Black Friday", non-US online poker rooms such as Party Poker went on the offensive, rightly sensing that Pokerstars, Full Tilt Poker and UB/AP were vulnerable. After years of watching Pokerstars and Full Tilt Poker build up their market share (thanks to their decision to remain open to the US market after 2006), Party Poker and other non-US rooms finally thought that their time had come, and that the playing field had been leveled overnight.
After "Black Friday", the online poker community was bewildered and nervous. Would Pokerstars, Full Tilt Poker and AP/UB collapse under the weight of a DOJ investigation? Would US players be repaid? Would non-US players be repaid?
It was imperative that all three networks stabilize their operations and pay out US players ASAP in order to maintain the trust of their customers. One room managed to do just that (Pokerstars), while Full Tilt Poker and UB/AP continue to trip, bumble and stumble.
Thanks to the strict licensing requirements of the Isle of Man government, Pokerstars has always kept player funds segregated from company assets. Thanks to this policy, Pokerstars was able to pay back their US players quickly after getting the green light from US authorities.
Full Tilt Poker and UB/AP, on the other hand, are a completely different story. It's probably going to be May 15th before we even get another UPDATE from Full Tilt Poker in regards to US player payouts, and UB/AP.. well, we won't even get into that, as that appears to be an even bigger mess.
Although Full Tilt Poker and UB/AP continue to service the non-US markets, players outside of the US HAVE to be watching closely in regards to US player payouts.
In one corner, you have Pokerstars. Pokerstars started paying back US players roughly 10 days ago, plus they have also allowed US players to start cashing out their FPPs. It's clear that Pokerstars was on the ball when it came to their accounting and the segregation of player funds.
In the other corner you have Full Tilt Poker and UB/AP. Neither site has paid back their US players, and both sites are looking increasingly bad with each passing day. Full Tilt Poker has been very slow in handling cashouts for their non-US players, while UB/AP has limited withdrawals for their non-US players (and these withdrawals have been very slow in getting processed).
--
According to
Pokerscout.com
, Pokerstars has lost roughly 26% of its traffic since "Black Friday". A steep hit, but certainly not disastrous.
Given how well they have handled things in the post-"Black Friday" environment, I would expect Pokerstars to continue growing in the weeks and months ahead. I think that Pokerstars is going to grab a large number of Full Tilt Poker's non-US players thanks to the response of the two sites to "Black Friday". After all, with each passing day that Full Tilt Poker doesn't pay back its US players, Pokerstars looks like a better and safer option.
Thanks to Pokerstars' quick (and successful) handling of their US players, they have been able to head off an advance from sites such as Party Poker. Party Poker has seen its traffic grow 10% since "Black Friday", but most of that growth came in the first week after April 15th. Pokerstars is still where most of the action is, and with worries about Pokerstars' survivability having been largely removed, players will continue to flock there.
Until online poker legislation is signed into law in the United States, I just don't see anybody coming even close to challenging Pokerstars. In my opinion, their handling of "Black Friday" will eventually put even more distance between them and competitors such as Full Tilt Poker.
--
Filed Under:
Poker Room News