Non-US Players Receiving a Flood of New Offers
Published on 2011-04-17 15:51:00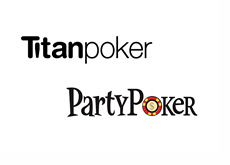 If you are an online poker player that resides in the United States, then you are probably wondering where the hell you are going to be playing over the coming months and years.
If you are an online poker player that lives outside of the United States, then you are in luck, as a number of the biggest non-US facing rooms in the world have recently launched aggressive new bonuses to win your business.
Let's start with Party Poker. Head over to Partypoker.com and you will read this:
"There has never been a better time to play at PartyPoker.com"
and
"Safety, security and prompt payments guaranteed."
Party Poker is also currently offering a 100% reload bonus of up to $100 to try to win over non-US players who might not want to play on PS and FTP right now. Here is the cut and paste from their blog:
"Top up your account and get 100% extra up to $100. Just deposit using bonus code 100PARTY. The 100PARTY reload bonus is available until 23:59 ET on 2nd May 2011."
--
Titan Poker, which is on the iPoker network, is also aggressively targeting players in the days after "Black Friday". Here are a few snippets from an email that I just received from them:
"Titan will PAY for Full Tilt and PokerStars players - if you are a PokerStars VIP player, send us a screenshot, you'll get the SAME VIP level on Titan."
"RELOAD BONUS now available in the amount of 100% up to $200"
"new tournament "Black Friday white Monday", more details to follow"
"Upgrade of our match bonus, going from 100% up to $500 to an unbelievable 200% up to $1000 "
--
I'm sure that most of the other major rooms that don't take US traffic are instituting similar promotions.
Many of these rooms have been patiently waiting for this moment for the past five years, and they are certainly wasting no time in rolling out the promo offers.
You can also be sure that once FTP and PS stabilize their operations, they will also be aggressively rolling out new promos of their own.
--
Filed Under:
Poker Room News