Season 7 Changes Not Going Over Well
Published on 2011-04-14 21:07:00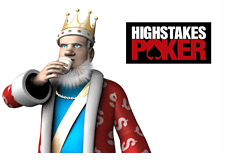 For years, "High Stakes Poker" was easily the best poker show on television. I don't think that you will find too many people who disagree with that statement.
The show produced many memorable moments - Negreanu vs Hansen, Farha vs Antonius and Dwan vs Ivey, just to name a few.
The high point of "High Stakes Poker" was Season 6, when names such as Phil Ivey, Tom "durrrr" Dwan and Patrik Antonius all decided to participate. The absolute best cash game players in the world were all playing, and viewers were hooked. The weekly broadcasts of the show were an event, with people flocking in droves to forums like 2+2 to dissect every hand. A mad scramble to locate the most recent episode online would ensue every week for those who hadn't been able to watch it on television.
Season 6 enjoyed a tremendous amount of buzz in the poker community, and the show looked to be soaring to new heights. This was a show that had been in real danger of being cancelled just a few years earlier, and now it was back and better than ever.
Then Season 7 came along, and the air was let out of the balloon.
To start, Full Tilt Poker decided to hold its players off of the show due to an ongoing squabble with Pokerstars. That meant no Ivey, no Dwan and no Antonius.
In addition, the popular host of "High Stakes Poker", Gabe Kaplan, was replaced by Norm MacDonald. I don't know of a single person who is actually glad that Kaplan is no longer the host of the show.
On top of all of that, GSN made the decision to move "High Stakes Poker" to Saturdays - a curious move, especially given that a large percentage of HSP's viewers are young men between the ages of 18-34.
--
The fact is, nobody is really talking about the seventh season of "High Stakes Poker". There was some initial curiosity as to how MacDonald would fare as the new host of the show, but that curiosity has now been replaced by indifference.
To make matters worse for "High Stakes Poker", "Poker After Dark" has taken steps to ensure that their program is even more enticing to the poker community. This includes more cash game action and less of the traditional freezeouts, as well as the introduction of Pot Limit Omaha. The PLO Cash Game, which features the likes of Phil Ivey, Tom Dwan and Patrik Antonius, seems to be a big hit with the poker community so far.
--
I used to love watching "High Stakes Poker", but it's just not the same anymore. I get the feeling that many people feel the same way.
--
Filed Under:
Poker on TV