"RasZi" vs "ElkY" Kickboxing Match Set for Late May
Published on 2011-04-09 04:16:00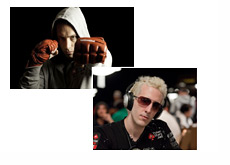 An epic fight will be taking place in Las Vegas during the second half of May.
Edgar vs Maynard III? Quinton "Rampage" Jackson vs Matt Hamill?
Nope - try Lex "RasZi" Veldhuis vs Bertrand "ElkY" Grospellier.
According to Veldhuis' Twitter account, the two "Team Pokerstars Pro" members will be squaring off in May:
"I'm fighting (kickboxing) Elky in Las Vegas this summer. Last week of May right before WSOP probably. This all because of a sidebet!"
The confident Veldhuis continued:
"About the Elky fight. I'm taking bets. I will write a more detailed blog about the bet."
To show how serious he is about this fight, Veldhuis recently changed his Twitter profile picture to one that shows him wearing MMA gloves and a hooded sweatshirt. Serious business.
--
Hopefully "ElkY" has been training hard, or else this could be a very short fight.
Holland (Veldhuis' place of birth) is a mecca for kickboxing - 15 of the last 18 K-1 World Grand Prix championship titles have been won by Dutch fighters (Semmy Schilt, Alistair Overeem and others).
"ElkY" has gotten into much better shape as of late, but he'll definitely be a big underdog in his fight against Veldhuis.
Photo: GreasieWheels.com,
RaSZi Twitter Acct.
--
Filed Under:
Random Poker News