"Urnotindangr" vs "Isildur1" in Next "Superstar Showdown"
Published on 2011-03-27 23:52:00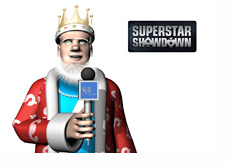 Shortly after the Daniel Negreanu / Viktor Blom "Superstar Showdown" match came to an end earlier today (Daniel Negreanu win by $26,500, by the way), Pokerstars announced that Scott "urnotindangr" Palmer would be the next opponent for "Isildur1" in the "Superstar Showdown".
Here is what Pokerstars had to say:
"Next week at the same 3PM Eastern Start time, Viktor 'Isildur1' Blom will begin his 5,000 hand, two-week match against Scott 'urnotindangr' Palmer."
Let's hope that Blom and Palmer are allowed to have starting bankrolls of more than $150,000, or else it might be a very short match.
--
"Isildur1" and "urnotindangr" have already had a number of epic and volatile matches on Pokerstars, which means that their two-week battle should end up being one of the most entertaining "Superstar Showdown" matches so far.
Scott Palmer will be looking to turn things around in his upcoming match against "Isildur1". Here are two of Palmer's most recent Tweets:
"fking hate poker just lost around 460k and was down around 700 at 1 point running so bad lately its fking joke"
"I hate poker lost around 400k today dropped around 200ish to gus but the other 200 i lost were to people who had no clue wtf there doing"
--
Filed Under:
Poker Room News