Viktor Blom -192 Favorite Heading Into Sundayís Showdown with Negreanu
Published on 2011-03-20 04:02:00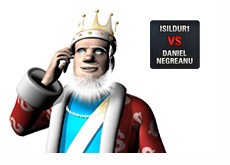 In just a few hours, Daniel "KidPoker" Negreanu and Viktor "Isildur1" Blom will lock horns in the "Superstar Showdown" on Pokerstars.
The 5,000 hand battle between Negreanu and Blom will be spread out over two weeks, with 2,500 hands taking place tomorrow (Sunday, March 20th), and the remaining 2,500 hands taking place on Sunday, March 27th. This assumes, of course, that neither player busts out before the battle has been completed. Each player will start with $150,000, and the winner will be the player who is up after the 5,000 hands have been completed.
--
Who do you think will win?
Will Blom overpower Negreanu with his relentless aggression, or will the experienced Canadian superstar manage to pull off a victory?
If you were wanting to put some money down on the outcome of the "Superstar Showdown" battle between "Isildur1" and "KidPoker", there is some good news - Pinnaclesports.com is accepting bets for the event.
As of this second, "Isildur1" is listed as a -192 favorite to win, while Negreanu is a +176 underdog.
The line has been moving in Negreanuís favor, as "Isildur1" was a -205 favorite as of last night.
You can view the current odds from Pinnacle here
.
The match between Negreanu and Viktor Blom gets underway on Sunday afternoon.
--
Filed Under:
Random Poker News