Andrew Robl Issues Challenge to "Beginning Fighters"
Published on 2011-03-17 04:40:00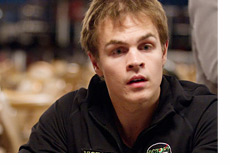 If you are a "beginning fighter" and have always had the desire to try and smash Andrew "good2cu" Robl's face in, then you might be in luck.
In a recent entry on his blog titled "The Easy Life", Robl revealed that he is open to having a cage fight against any "beginning fighter" who "wants to make a wager on a fight".
According to Robl, the original plan was for him to take on Sorel Mizzi in a $50,000 cage fight during the World Series of Poker. The planned Robl/Mizzi clash is not going to happen though, as Robl claims that "Sorel backed out of the bet".
Andrew is clearly itching to step into the cage against somebody though, as he issued his open challenge to the poker community, which you can read by clicking the link below.
--
According to his blog, Robl trains mixed martial arts "3-4x a week" at Sergio Penha's gym in Las Vegas. Penha currently coaches several UFC fighters including Stephan Bonnar and Steve Cantwell.
So, if you've got the money and want to fight Andrew Robl, then that is what you will be up against.
Source: AndrewRobl.com -
The Easy Life
Photo: GreasieWheels.com
--
Filed Under:
Random Poker News