Kathy Liebert Bashes Howard Lederer
Published on 2011-03-12 07:02:00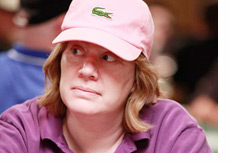 Kathy Liebert doesn't like Howard Lederer very much.
Earlier in the week during a "Live at the Bike" webcast, Kathy Liebert said that Howard Lederer would have been a "bust out poker player if he didn't fall into Full Tilt".
The outspoken Liebert continued to blast away at Lederer a short time later via her Twitter account. She started out with this:
"What I said about Howard is true."
and followed up with this:
"#boring #notfriendly #nit. Not my kind of guy."
and finished up with this:
"boring nit acts like big shot but was busted poker player. unfriendly pompous. Arrogant. Too bad only 140 characters allowed"
--
Ouch..
Source:
Kathy Liebert's Twitter Account
Photo: GreasyWheels.com
--
Filed Under:
Random Poker News