Tom Dwan Says That The $11 Million Pot Never Happened
Published on 2011-03-03 06:12:00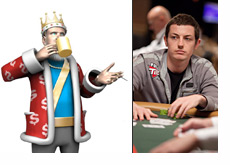 Rumors have been swirling over the past week that Tom "durrrr" Dwan took down a MASSIVE pot while playing in an ultra high-stakes cash game in Macau.
The story, which was started by a Finnish player who apparently railed the hand while he was playing in Macau, had Tom Dwan winning a massive 89 million $HK (about $11.4 million USD) pot.
According to the rumor, Dwan and two other players got their stacks into the middle pre-flop and flipped over:
Dwan - A-K offsuit
Player 1 - pocket Jacks
Player 2 - pocket Tens
Tom "durrrr" Dwan hit his ace, the story went, and took down the $11.4 million USD pot.
--
According to Dwan himself, the story is not true.
From Dwan's Twitter feed earlier tonight:
"We play 10k-20k hong kong. There's straddles sometimes and crazy action... But 89m with ako- rly?"
"No to clarify, that hand was obviously fake lol"
So there you go..
Photo: GreasieWheels.com
--
Filed Under:
Random Poker News