Jared Huggins Reveals That He Was Denied For "The Big Game"
Published on 2011-01-29 19:09:00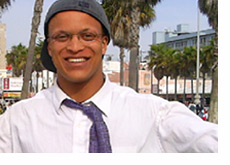 Jared "RelaxedPrecision" Huggins revealed earlier today on Two Plus Two (link below) that he wasn't chosen to appear as a "Loose Cannon" on the next season of Pokerstars' "The Big Game".
Huggins said:
"I got an email from PokerStars yesterday informing me that I was not selected to compete as a Loose Cannon on next seasonís PokerStars Big Game. I wasnít given any specific reason why I wasnít selected, but I was thanked for trying out."
Jared Huggins has a pretty amazing story -
you can read about it here
.
The online poker community rallied around Huggins after his story came to light.
Huggins submitted an audition tape to the producers of "The Big Game" in hopes of appearing on the show. A number of pros, including "Team Pokerstars Pro" Daniel Negreanu, were vocal in their belief that Huggins should appear as a "Loose Cannon" on the show. Combined with the support from the online poker community, it was widely assumed that Huggins would be a shoe-in to appear on the show.
Daniel Negreanu had this to say after learning about the news:
"Just saw this and am absolutely shocked. I have no idea why he wasn't chosen. I know that FOX investigates contestants backgrounds, looking for any criminal past, etc. but I've got no clue why they wouldn't pick him. Sorry to all those that supported Jared, I was one of them."
You can read about the reasons why Huggins wanted to appear on the show and how we was preparing for the possible appearance by following the link to TwoPlusTwo below.
It's tough to figure out why Pokerstars wouldn't want Huggins on the show.. it certainly seemed like a win-win for everybody involved.
Source: TwoPlusTwo.com -
Jared Huggins DENIED by Pokerstars Big Game
Photo:
jaredhuggins.com
--
Filed Under:
Poker on TV